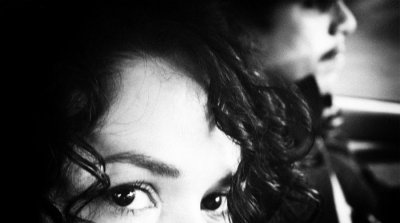 Ingrid Chávez comes back with a new recording called Deep and Heady forming a duo with Chicago producer and musician Marco Valentin, under the name of Black Eskimo.

Since May 19, 1992 (1992), Little Girls with 99 Lives (1997) and A Flutter and Some Words (2010), the focus on her excellent and original creation has been distracted, but never eclipsed, by her collaborators. Now, as Black Eskimo, she fulfill expectations created by "Escapology" and "The Decemberists" in the shape of an album in two parts. The contrast between Marco and Ingrid works, and they are beginning to show results. Ingrid tells us about the recording of Deep and Heady and more:
Where we live and wrote the songs, it's very cold with long winters and lots of snow. We feel sometimes like we are displaced Eskimos breaking through the silence of the cold icy winters.
How did the collaboration between you and Marco begin? "I'm married to my music always looking for a new muse to fuse it" How was the collaboration with Marco?
We had a mutual friend who introduced us to each other's music about seven years ago. Although we did not meet back then we wrote a few songs sending files via the internet. We lost contact with each other and I started working with Lorenzo Scopelliti on A Flutter And Some Words. In February 2010, soon after A Flutter… was released Marco found me on Myspace and asked me if I would like to try writing songs together again. We started sending files back and forth via the enter net again and here we are four years later.
I love it that you pulled out that line from "I'm On". It's true, my life is the music. Prince once said that I was married to my music and that I would never get 'married'. I disagreed with him back then of course but, looking back maybe he knew something that I didn't. Anyway, I did have that conversation in mind when I wrote that line in the song. A muse can come in many different forms. Most of the time it is in a person I suppose but, I have a Japanese Maple tree with a Buddha that sits beneath it. That scene has inspired me through fourteen winters. Being a writer, I am always looking for the muse to fuse the voice, the words and the melodies, to evoke some emotional response. It's my drug of choice, a new song.
What did you learn from your previous ones?
Each collaboration brings out some new way of feeling or expression for me keeps it fresh. I will never make another album like May 19, 1992. That was me and Prince and the little world that we lived in for a winter. A Flutter And Some Words was Italy, the salty sea and warm sun, poetry and all things beautiful. Deep And Heady is the long cold winters here in New Hampshire building fires, living on the edge, putting every bit of money and energy we have into making this record. There are other collaborations that mark other periods in my life but these are the three that I put my heart and soul into.
What do you seek when you write poetry and music? Is there a message?
If there is a message in any of my songs, it's to myself I suppose. When I write, I am summing up some feeling or experience that is very personal; I am learning something about myself. When I start a new song, the whole journey from melody to lyrics, it's like giving birth. The complete song is such a release of energy. Completing an album is like writing a book, each song is a chapter of my life. It was no different with May 19, 1992, once it was finished it felt like entries in a diary.
Of all those songs in Deep and Heady, which one/s do you prefer? (& why?)
I love them all but I think that "Touch", "My Love's a 45" and "Ride" are my favourites. Touch because it really sums up how it feels to grow close to someone, to fall in love with a friend and wonder if it's ok to cross that line. "My Love's a 45" is just a clever lyric: 'If you're a storm chaser come to settle me, you better know what you're doing, everything I touch seems to send in ruin'. I love singing that song live. "Ride", I love the spoken word element of it and the lyrics are strong: 'Life is a rollercoaster, I love the highs as much as the lows'. That's what my songs are born out of, that full appreciation of what love and life has to offer.
And from your previous ones?
From A Flutter And Some Words
, I would say "Mine", "A Flutter And Some Words" and "Isobel" and "Backroads".
What was what made you choose those photographs for the album?
The photographs are mysterious. They were both taken during journeys away from home. They both have water. There is a solitude reflected in each one that is broken once you put the music on.

In general terms, what makes you click the button of your camera?
I rarely click the camera these days because I have been so busy with this record but, I tend to take photographs when I am on a long drive alone. When I am in a quiet space and the landscape reflects my state of mind. Click!
What's the main difference between Deep and Heady and your previous albums?
The main difference between Deep & Heady and the two previous albums I would say is a clear vision of what I wanted the end result to be. A stronger voice and this time around I wasn't concerned about beauty and poetry. There is another line in "I'm On" that says 'I survived the death of a poet, and now I'm gonna show it, I've arrived, you'll know it when you hear this new beat'. I think that the scope of the lyrics although maybe not as poetic, it's not so different from May 19, 1992.
In what sense the title 'Deep and Heady' describes the album?

The word Heady brings to mind the song "Lilac Wine". I love Jeff Buckley's version. 'Lilac wine is sweet and heady, like my love Lilac wine, I feel unsteady, like my love'
Deep
, I knew even before I started writing this album that I was intending to make my next record cut deeper than A Flutter. The title comes from the song "Deep and Heady" which is a song about being in love with someone who you have lost and will forever be seeking that 'love high' again like a junky. When we decided to release the album in two parts, Deep and Heady as two separate titles worked nicely.
You've been warming up your live shows. How was the experience?
I have been waiting for the right set of songs to come along that I felt I could commit to touring. This is it. I love playing them live and I hope to make it over to Spain in the next year!
What are the duo's next steps? more tour dates?

Yes! We are just getting started. We also have more songs in the works.

You haven't heard the last of Black Eskimo!
Listening to her work, it's clear that Ingrid had the luck to work with artists of such a standing as Prince, David Sylvian, Lenny Kravitz and Madonna (Ingrid co-wrote "Justify my Love"), Ryuichi Sakamoto and many more. However, she was not the only lucky one, they could modulate their creation under her prism and sensibility of such an original artist like her. Approach her music with no preconceptions, no labels and no proper names if not hers.